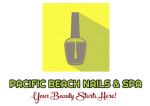 Description
Pacific Beach Nails & Spa provide exceptional nails and spa services in a clean and comfortable modern setting. In addition to our world-class services, we only use high-quality professional beauty products, which will help enhance our client's physical appearance and increase their self-confidence.
[caption id="attachment_13359" align="alignnone" width="736"] Pacific Beach Nails & Spa | Best nail salon 92109 | Good place for all people in San Diego | Nail salon San Diego[/caption]
Pacific Beach Nails & Spa strenuous hiring process and continual advanced training and mentoring programs will ensure our well-trained staff will exceed our customer's expectations every single visit. We also take our customers' feedback seriously so we can improve and ultimately be the nail salon of choice in the Pacific Beach area.
Send Message to listing owner