Pro Nails Spa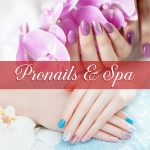 Listing Title:
Pro Nails Spa
Description:
Nail Salon 20010 | Pro Nails & Spa | Washington, DC 20010
Pro Nails & Spa is located in Washington, District of Columbia 20010. We bring the best qualify all pedicure, manicure services and waxing services to the customers. We operate salons and spas all over the continental United States and dedicate our time and energy in to making sure you have a comfortable experience and leave satisfied.
Our nail artists are very experienced, having spent years mastering nail art. Our nail salons are clean, comfortable, and professional. We guarantee that you will leave satisfied and anticipating your next visit.
Pro Nails & Spa – Nail salon in Washington, District of Columbia 20010
Add: 3328 14th Street Northwest, Washington, DC 20010, United States
Tel: (202) 986-1154
Map: https://goo.gl/maps/Le5C3nk64kjammgK8
Send Message to listing owner