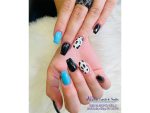 Description
Located conveniently in Salt Lake City, UT 84101, Aloha Lash & Nails is one of the best beauty salons – would bring you the most memorable and wonderful time when using our services!
Come to visit our nail salon and enjoy the comfortable relaxing moments with the leading service provided. We not only provide world-class Manicures, Pedicures, and Lash Extensions in Salt Lake City, UT, we use the very best products on the market. We hope you will enjoy a happy time with us. From the moment walking through our door, you will be greeted warmly by our friendly & professional staff members.
Our nail salon understands the importance of maintaining a healthy, safe environment for all of our valued guests. That is why we clean, disinfect and sanitize all of our instruments and equipment for all services and treatments. We pledge to adhere to the highest industry standards.
Let Aloha Lash & Nails make your day more wonderful!
[caption id="attachment_18869" align="alignnone" width="533"] Nail Salon 84101| Aloha Lash & Nails | Salt Lake City, UT 84101[/caption]
Send Message to listing owner