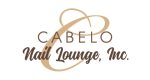 Description
Located conveniently in Trinity, Florida 34655, Cabelo Nail Lounge, Inc. is one of the best salons in this area. Cabelo Nail Lounge, Inc. offers premier nails care and spa treatment services to satisfy your needs of enhancing natural beauty and refreshing your day.
Cabelo  Nail Lounge, Inc. is a haven of relaxation that promotes comfort, beauty, well-being, and health. Our priorities are client-focused services, high-quality products, and above all else, grade-A sanitation standards. We are committed to bringing you the latest advances in beauty care and only use the most trusted brands in the beauty industry. Our world-class products, services, and top technologies will help you feel great and look your best!
Cabelo Nail Lounge, Inc. understands that Safety and Sanitation are key to your peace of mind. Our implements are medically sterilized and disinfected after each use. Buffers and files are used only once then discarded. All pedicure procedures are done with liner protection. And above all, staffs are trained to follow a proper sanitization protocol that puts clients hygiene as the number one priority.
Come to us now and enjoy the relaxing moment
[caption id="attachment_16246" align="alignnone" width="600"] Cabelo & Nail Lounge, Inc. is a good place for nail and hair | Nail salon 34655[/caption]
Send Message to listing owner