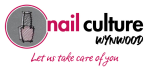 Description
If you are seeking a nail salon where helps you to rejuvenate your beauty, Nail Culture Wynwood is the ideal destination! Located conveniently in Miami, Florida 33137, our nail salon is proud to deliver the highest quality treatments to our customers.
Our nail salon is dedicated to bringing top-of-the-line products mixed with expert techniques to the nail salon industry. Offering services such as Waxing, Facials, Eyelash Extensions, and Nails allows us to be a one-stop destination for those looking for a complete rejuvenating experience. The friendly staff creates an atmosphere of urban relaxation. We are always trying to be innovative with design and trend, always up-to-date with what the industry has to offer.
[caption id="attachment_13996" align="alignnone" width="696"] Nail Culture Wynwood give people many quality nail services - Nail salon 33137 - Nail salon Miami, FL[/caption]
Nail Culture Wynwood understands that Safety and Sanitation are key to your peace of mind. Our implements are medically sterilized and disinfected after each use. The employees only use the top-rated sanitary spa equipment along with vigorous staff training and service procedures. Yes, you can rest assured that you are in good hands.
Enjoy our wide range of services in a cozy and luxurious environment. We look forward to serving you!
Send Message to listing owner