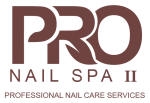 Description
Let's visit, have a relaxing time, and become prettier after enjoying high-end services at one of the best Nail Salons in Chesapeake: Pro Nail Spa II
Conveniently located in Chesapeake, Virginia 23321, our nail salon is proud to deliver the highest quality treatments to our customers.
As always, our primary concern is for your safety, comfort, and sheer delight with the experience. You'll find luxurious massage chairs, peaceful surroundings, and incredible options for Manicures, Pedicures, Waxing, Eyelash Extensions, and Dipping Powder. Our products are predominantly natural for your well-being and inner peace. We pride ourselves on choosing 100% natural products whenever possible, and that accounts for nearly 90% of the products in our nail salon. We want you to discover the essence of luxury and serenity, inside and out.
Our nail salon understands that Safety and Sanitation are very important to customers. Our implements, equipment, and electrical instruments are always thoroughly cleaned and subjected to an approved sanitizing and disinfecting process before being reused. Buffers and files are used only once, then discarded. All pedicure procedures are performed with liner protection. Our staff was trained to follow a proper sanitization protocol that puts our customer's cleanliness as the number one priority.
If you're in need of Nails treatments or wish to know why so many Chesapeake residents come to our nail salon, come to visit us today.
[caption id="attachment_16248" align="alignnone" width="693"] Pro Nail Spa II - Trustest place for people on Chesapeake - Nail salon 23321[/caption]
Send Message to listing owner