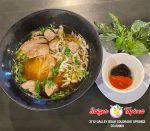 Description
Treat yourself to some tasty foods and flavorful drinks with the Saigon Tapioca team!
Food plays an integral role in our lives. Food functions as a universal language, illustrating the history and culture of the place it represents. As the number of Asians/Asian Americans continues to grow, so too do the numbers of Asian restaurants located in the State of Colorado. If you are looking for a clean, authentic, and affordable dining spot in the city of Colorado Springs, Saigon Tapioca is definitely your go-to place.
Saigon Tapioca CO 80909 was founded with the mission and vision of introducing you to Asian culture through the best Asian dishes, specifically Vietnamese, Chinese, and Japanese dishes. Our menu includes both traditional Vietnamese food and various Asian foods and drinks that are not only mouth-watering but also healthy. Asian meals are always famous for being a nutritional, heart-healthy diet. Asian diets are low in fat, especially the saturated variety, and high in fiber. No need to worry about your diet plan when you enjoy your meal in Saigon Tapioca.
Here at Saigon Tapioca, an excellent bistro specializing in Vietnamese food, we have a crew of talented chefs who were inspired by the cooking style of Vietnamese cuisine culture and were continuously trained to cook stunning Asian-style food with signature, traditional recipes. The enthusiastic crew of Saigon Tapioca will try their best to be able to prepare only the best meal for all diners driving to our restaurant in Colorado Springs, CO 80909.
Vietnamese cuisine has become the most prominent of all Asian styles of cooking, with several different styles based on region - the most basic difference being between northern and southern styles of Vietnamese cuisine. Here at Saigon Tapioca in Colorado Springs, patrons can find some delicious authentic Vietnamese dishes, including Beef Noodle Soup (a worldwide famous dish), Grilled Pork (so yummy), Banh Mi (Vietnam's iconic food), Spring Rolls (a pleasing Vietnam specialty), Egg Rolls (must-try street food), Fried Rice (delicious fusion of Vietnamese & Chinese food), Crab & Cheese Wonton (Chinese signature dish), Shrimp Tempura (Japanese traditional food), and Tapioca Milk Tea - the trendiest and most popular beverage originated from Taiwan to quench your thirst.
Saigon Tapioca prides itself as one of the highest quality Asian restaurants in Colorado Springs, CO 80909. We invite every foodie to come visit our Vietnamese resto to satisfy your cravings and have a good time with your loved ones. Our clever staff of waiters and waitresses will give you useful advice and recommendations on the menu. They bring the food to your table in the best condition as quickly as possible.
You don't need to fly to Vietnam to explore its diverse culinary culture. All you need to do is pay a visit to our Vietnamese restaurant in the city of Colorado Spring. Do not hesitate to come on in and taste our scrumptious dishes. Saigon Tapioca is always here to bring a whiff of Vietnam to the State of Colorado. Check out this establishment for an incredible Asian fusion of Vietnam, Chinese, and Japanese! We are excited to serve each valued guest. Online order (delivery), dine-in, take-out, and pickup are all available!
Saigon Tapioca
- 3712 Galley Road Colorado Springs, CO 80909
- (719) 597-6559
- Web: https://www.saigontapioca.com
- Maps: https://g.page/Saigon-wings
#Pho, #vietnamese_restaurant, #restaurant_near_me, #pho_near_me, #food_near_me, #delicious_authentic_dishes, #Beef_Noodle_Soup, #Banh_Mi, #Spring_Rolls, #SandwichWonton, #Tempura, #Tapioca Milk Tea, #bobatea, #bubble_tea
[caption id="attachment_18153" align="alignnone" width="400"] Vietnammese Restaurant 80909 | Saigon Tapioca | Colorado Springs CO 80909[/caption]
[caption id="attachment_18154" align="alignnone" width="400"] Vietnammese Restaurant 80909 | Saigon Tapioca | Colorado Springs CO 80909[/caption]
[caption id="attachment_18155" align="alignnone" width="400"] Vietnammese Restaurant 80909 | Saigon Tapioca | Colorado Springs CO 80909[/caption]
[caption id="attachment_18156" align="alignnone" width="459"] Vietnammese Restaurant 80909 | Saigon Tapioca | Colorado Springs CO 80909[/caption]
Send Message to listing owner