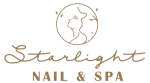 Description

Leave the busy and stressful life behind – be pampered by our creative, enthusiastic, and well-trained technicians. Located conveniently in Pennsauken Township, New Jersey 08110, Starlight Nail Spa | Nail salon 08110 is the ideal nail salon for you to immerse yourself in a luxury environment.


A clean and beautiful space would make you feel comfortable and relaxed, and all of your fatigue and tiredness will immediately fade away. Our philosophy and mission are to ensure that customers are happy when they come and satisfied when they leave. Our nail salon offers a wide range of services such as Manicures, Pedicures, Waxing and so much more. Whether you need a completely new design or a quick manicure, you'll find it here. All the technicians at Starlight Nail Spa are willing to hear your needs and deliver the best services that you deserve!


Our nail salon understands that Safety and Sanitation are key to your peace of mind. Buffers and files are used only once and then discarded. Paraffin waxed is also never recycled for another use. All pedicure procedures are done with liner protection. We pledge to adhere to the highest industry standards.


Come to us and enjoy the best moment at Starlight Nail Spa

Send Message to listing owner