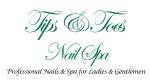 Short Description
Located at a beautiful place in CLEARWATER, FL 33761, Tips & Toes Nail Spa | Nail salon in Clearwater, FL 33761 offers the ultimate in pampering and restoring your beauty with our whole-hearted, careful & professional staff.

At Tips & Toes Nail Spa, we believe we can do more than simply paint nails and soak feet. We're here to improve your quality of life. That's why we not only provide world-class manicures, pedicures, and spa treatments in CLEARWATER, FL, we use the very best natural products on the market. As a result, the time you spend in our natural spa can truly have a positive effect on both your body and your emotions. Just the fresh fragrance of our spa products will transport you to a relaxing space and leave you feeling invigorated.

TIPS & TOES NAIL SPA
🏠: 28901 HIGHWAY 19N, CLEARWATER, FL 33761
📞: 727-216-6323
📧: tipsandtoesnailspa28901@gmail.com
🗺: https://g.page/TipsAndToesClearwater?share
Description
Located at a beautiful place in CLEARWATER, FL 33761, Tips & Toes Nail Spa | Nail salon in Clearwater, FL 33761 offers the ultimate in pampering and restoring your beauty with our whole-hearted, careful & professional staff.
At Tips & Toes Nail Spa, we believe we can do more than simply paint nails and soak feet. We're here to improve your quality of life. That's why we not only provide world-class manicures, pedicures, and spa treatments in CLEARWATER, FL, we use the very best natural products on the market. As a result, the time you spend in our natural spa can truly have a positive effect on both your body and your emotions. Just the fresh fragrance of our spa products will transport you to a relaxing space and leave you feeling invigorated.
Our nail salon understands the importance of maintaining a healthy, safe environment for all of our valued guests. That is why we clean, disinfect and sanitize all of our instruments and equipment for all services and treatments. We pledge to adhere to the highest industry standards.
Enjoy our wide range of services in a cozy and luxurious environment. We look forward to serving you!
TIPS & TOES NAIL SPA
🏠: 28901 HIGHWAY 19N, CLEARWATER, FL 33761
📞: 727-216-6323
📧: tipsandtoesnailspa28901@gmail.com
🗺: https://g.page/TipsAndToesClearwater?share
Send Message to listing owner