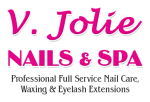 Description
Located at a beautiful corner in Anaheim, CA 92802, V.Jolie Nails Spa is a regular nail salon for everyone, as we always try our best to deliver the highest level of customer's satisfaction.
Our goal at V.Jolie Nails Spa is to make you feel good about choosing us. We offer exceptional customer service in a wonderfully warm and inviting atmosphere. Each treatment is tailored especially to the client's individual needs. You will experience a unique atmosphere where you can relax and unwind with friends.
Our nail salon understands that Safety and Sanitation are key to your peace of mind. Our implements are medically sterilized and disinfected after each use. The employees only use the top-rated sanitary spa equipment along with vigorous staff training and service procedures. Yes, you can rest assured that you are in good hands.
Visit us today and experience the combination of luxury and elegance. Our nail salon looks forward to seeing you!
[caption id="attachment_15322" align="alignnone" width="544"] V.Jolie Nails Spa - nail salon 92802 for everyone in Anaheim CA[/caption]
Send Message to listing owner