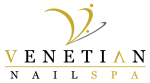 Description

Located conveniently in Wesley Chapel, FL 33543, Venetian Nail Spa Wesley Chapel is one of the most famous nail salons in this area for professional nail care services and cleanliness. Our nail salon offers you the ultimate in pampering and boosting your natural beauty with our whole-hearted, creative & professional staff.


Our nail salon is the ideal space for you to escape from all the stresses as well as tiredness to enjoy the most comfortable moments. We provide the best services of Manicures, Pedicures, Eyelash Extensions, and Waxing for our valued customers at a reasonable price. At Venetian Nail Spa Wesley Chapel, we are committed to providing our valued customers with the best quality services and relaxing every visit. You always feel friendly and welcome by our passionate staff who understand what you want.


Besides, understanding that customers always appreciate cleanliness and safety when coming to a nail salon, we ensure beautiful and healthy nails for each client. Our implements are medically sterilized and disinfected after each use. Buffers and files are used only once and then discarded. All pedicure procedures are done with liner protection. We pledge to adhere to the highest industry standards.


We look forward to seeing you soon at Venetian Nail Spa Wesley Chapel | Nail salon 33543! Thank you for being our guest!

Send Message to listing owner