Nail salon 85016 – AK Nails Spa near me E Indian School Rd, Phoenix, AZ 85016 : Treat yourself to some indulgent "me" time with our rejuvenating services!

1. Our Pedicures are the best
At our salon, we pride ourselves on providing the best pedicures in town. From the moment you step into our cozy, comfortable spa, you'll feel a sense of relaxation and tranquility that can only come from a truly exceptional experience. Our friendly and skilled technicians will cater to your every need, using only the finest products and techniques to ensure your feet are pampered and cared for to perfection. Whether you're looking to simply relax and unwind after a long day, or want to treat your feet to some much-needed TLC, our pedicures are the perfect solution. So why wait? Book your appointment today and experience the difference that comes with truly exceptional service. We promise you won't be disappointed! ORGANIC ALOE VERA PEDI – COCONUT MILK PEDI – FRESH CUCUMBER PEDI – LAVENDER PEDICURE – FRESH LEMON PEDICURE – AK PEDICURE
2. We guarantee to provide excellent services
We guarantee to provide excellent services, especially catching up with new trends in nail & beauty care services. Our nail salon has created a clean and professional atmosphere for all of your nail and beauty care needs.
3. Cleanliness and sanitation
Cleanliness and sanitation are also guaranteed at our nail salon. Our implements are medically sterilized and disinfected after each use. The employees only use the top-rated sanitary spa equipment along with vigorous staff training and service procedures.
4. ARTIFICIAL NAILS
Artificial nails are one of the most popular and trendy fashion statements of modern times. They are an ideal option for individuals who want to add a bit of glam and sophistication to their looks. Artificial nails, also known as fake nails or artificial extensions, are made of several materials, including acrylic, gel, and silk wraps. They are available in various shapes, sizes, and colors to choose from, and they can be customized and decorated to suit individual preferences. The application of artificial nails is a straightforward and simple process. A professional nail technician typically applies the artificial nails, which involves the use of various tools and products. The technician will start by preparing the real nails, remove any old polish and debris from the nails, and cut and file the nails to the desired shape. Next, individual artificial nails are placed onto the real nails and secured with a strong adhesive. The nails are then painted, decorated, or stamped according to individual taste. Whether for special occasions or everyday wear, artificial nails continue to remain a popular choice among fashion enthusiasts.
5. Attention to nail detail and nail skill is impeccable
Attention to nail detail and nail skill is impeccable when it comes to achieving professional and flawless-looking nails. The art of nail care and styling requires delicate precision, skillful techniques, and attentive consideration for even the smallest details. A skilled nail technician who pays attention to detail will create aesthetically pleasing and long-lasting results that are sure to impress any client. Paying attention to nail detail and nail skill requires patience, commitment, and a great deal of focus. A skilled nail technician will take time to assess the nails' health, shape, and length before recommending and implementing a treatment plan. We will use specialized tools and techniques to shape, buff, and polish nails to perfection, ensuring that each nail is uniform in length and shape. Excelling in nail skill and detail allows the technician to customize a client's nails to their personal taste and lifestyle, making this field of work both a creative and rewarding one. As a result, it is essential for any aspiring nail technician to focus on improving their detail and skill levels to provide high-quality nail services.
6. Stop by our salon for cute but chic fingertips any day
Welcome to our salon where we offer the best nail services in town. Are you looking for cute and chic fingertips? Our salon is the perfect place to be. We offer a wide range of manicure services that will leave you feeling fabulous. Our team of skilled professionals is dedicated to offering the best services that meet our client's needs. Our salon has created a unique atmosphere that allows our clients to feel relaxed while receiving their manicure services. Our salon uses high-quality products and materials, ensuring that your nails look fabulous and stay strong. We offer a range of styles and designs that are perfect for both casual and formal occasions. We welcome all clients, and our team will work with you to create a customized look that suits your personal style and taste. Are you ready to look chic and stylish? Stop by our salon any day, and we will take care of the rest.
Restore your body and mind to perfect balance and treat yourself to some wonderful me-time courtesy of our high-quality beauty and wellness treatments – with instantly noticeable, long-lasting results. There are numerous nail art designs for everyone, from sleek and minimalistic styles to unconventional and cool 3D designs, subtle ombre and modern takes on the French manicure, metallic accents and much more. The concept of the most beautiful manicure changes every year. For some girls, this is a restrained classic in the form of a French manicure. Others call a bright, catchy manicure with a decor in the form of rhinestones beautiful. In turn, for the third, a sophisticated minimalistic design will be more attractive. We have prepared fresh, stylish ideas, among which every girl can find something suitable.

Lovely and clean environment, plus friendly staff! Our salon stands out from the rest due to the high attention to detail and care that goes into each nail. The technicians take their time and make sure each nail is perfect and exactly how you want it.

Nail salon 85016 – AK Nails Spa near me E Indian School Rd, Phoenix, AZ 85016 : Treat yourself to some indulgent "me" time with our rejuvenating services!

AK Nails Spa in Arcadia Fiesta
Add : 3141 E Indian School Rd #101, Phoenix, AZ 85016
Phone : (602) 840-4991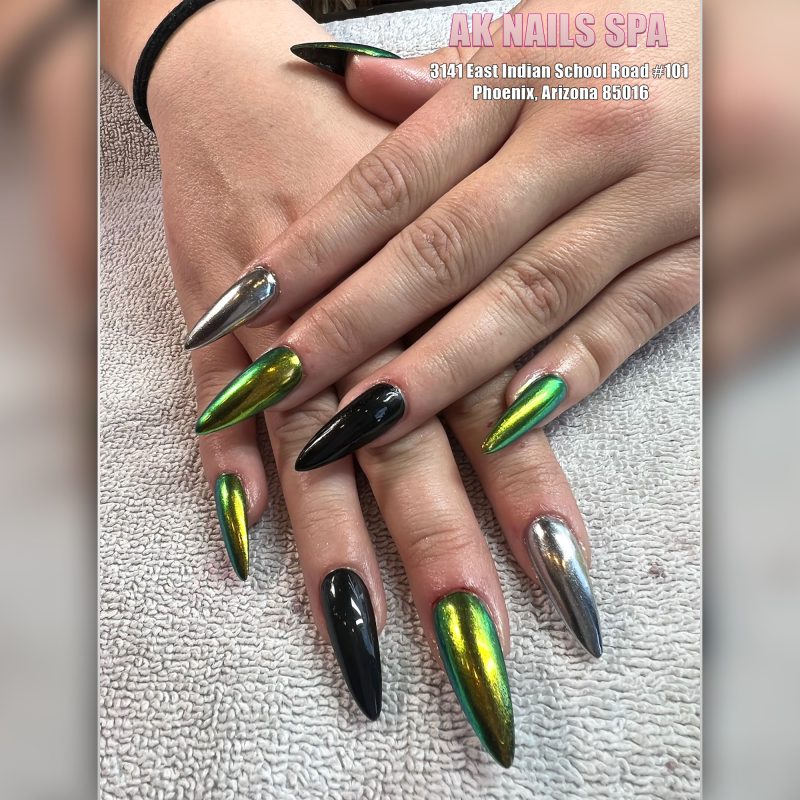 https://aknailsspaphoenix.com/an-amazing-pedicures-and-a-good-place-for-nails-at-ak-nails-spa-phoenix-az-85016
https://nailsholic-naillovers.blogspot.com/2023/05/an-amazing-pedicures-and-good-place-for.html
https://www.facebook.com/topnailsalonsUS/posts/pfbid02yBeQTYZpUW8APURd1YUKJ9AqZbRXNkV1ynhARY4tkhURSew61FiXApY9daop9GBzl
https://gettr.com/post/p2g1rf7c4f8
https://www.instapaper.com/read/1602476923