Design by FANTASY NAILS SPA Silver Spring | Nail salon Woodmoor
Gelish is a pure, thin UV gel that is pigmented in various degrees to give colour. The formula, which applies like a classic polish, but lasts much longer, is slightly thicker than shellac; expect it to last up to three weeks while protecting your natural nail (bonus). Gelish can often work better for those with weaker nails because of its impenetrable polish.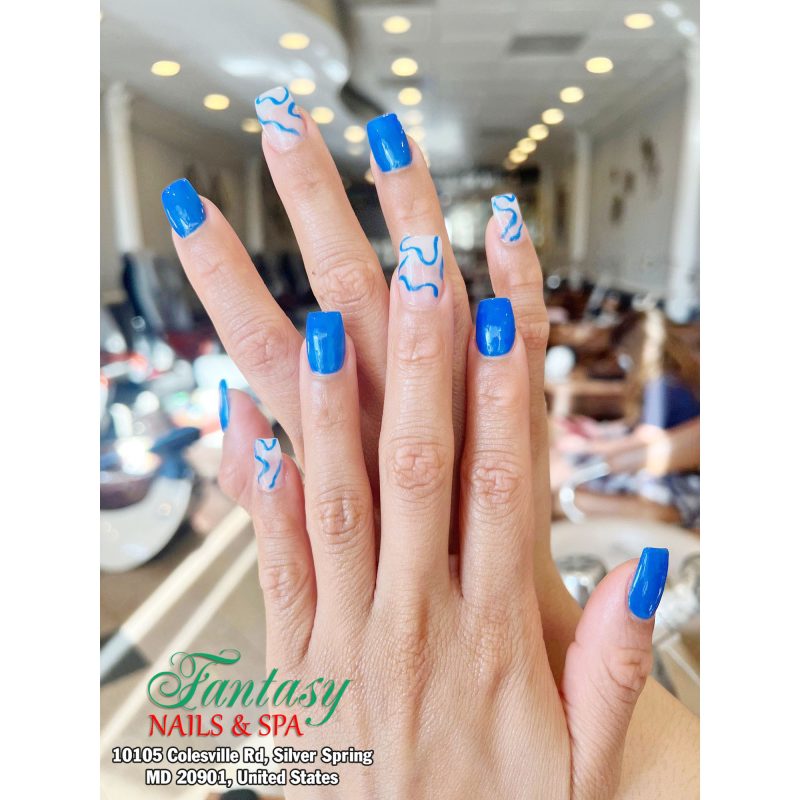 Which is kinder to nails gel or shellac?
Gel manicures benefit those with weaker nails and lasts just that little bit longer than Shellac. However, the removal process is quite lengthy. Shellac is a thinner polish, so if you want to give your nails more space to "breathe' and have sturdy natural nail beds, this one's for you.
How long should you leave shellac on your nails?
The optimum time between CND Shellac manicures is 2 weeks. However, slow growing nails can go up to 3 weeks. The main reason is that after 2 weeks the Shellac starts to take a little bit longer to remove as it continues to harden.
Many salons have excellent interior designs, which makes their clients feel great. Immersing yourself into a beautiful theme, listening to nice music, being wrapped around by essential oil fragrances, and being pampered and cared for by friendly staff have the huge power to release negativity from your mind and put you at ease.
Let's com in Fantasy Nails & Spa – Woodmoor Center to transform new nail!
FANTASY NAILS SPA | Nail salon Woodmoor shopping center
Address:10105 Colesville Rd,
Silver Spring, MD 20901
Phone:301-681-2845