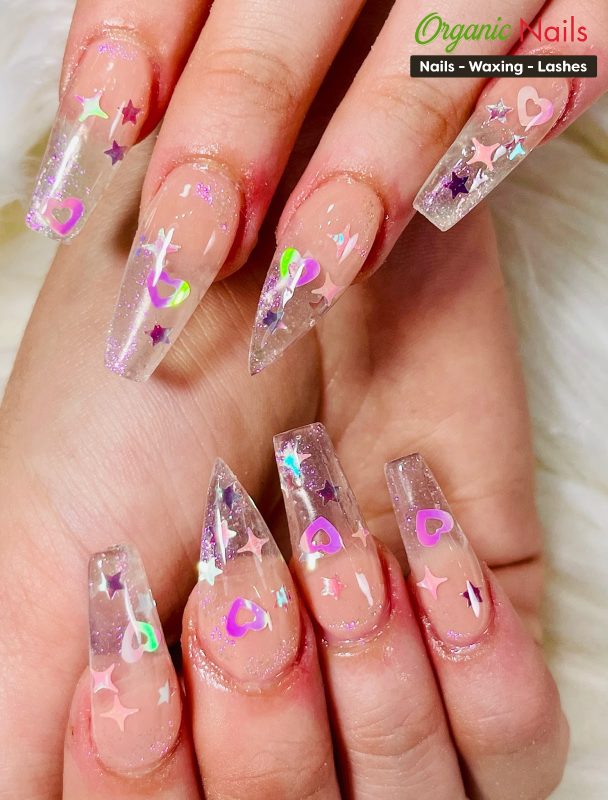 Glitter design by our nail salon Las Vegas, NV 89118
How to Choose the Best Glitter Polish for You?
If you are someone who likes to wear nail polish but can't find the time to paint your nails every day, then you should consider getting a glitter polish. Glitter polishes are an excellent way to get the look of a manicure without actually having to go through the process of painting each nail.
There are many different brands and types of glitter polishes available on the market, so it's important that you choose one that is right for you. When choosing a glitter polish, there are some things that you should keep in mind. For instance, if you have sensitive skin or nails and don't want any irritation or peeling, then it's best not to use any type of glitter polish.
How to Apply the Best Quality Glitter Polish on Your Manicure?
This article will teach you how to apply the best quality glitter polish on your manicure. The glitter polish is often used in nail art and can be applied to the nails in different ways.
Step 1: Apply a clear coat of nail polish as a base coat on your nails. This will help protect your nails and keep them from getting stained by the glitter polish.
Step 2: Apply a thin layer of glitter polish over the clear coat of nail polish, using a brush or applicator.
Step 3: Allow the first layer to dry before applying another one, this will help avoid smudging or smearing when you are applying it.
Step 4: Once you have applied two layers, let it dry for about 10 minutes before applying any other type of nail polish
🌼 You can absolutely count on this shade if you need to be the main star of some event. A bit of glitter on your fingernails can enhance the drama effect. This nail idea is worth a try! Walk in today and let us pamper you.
ORGANIC NAILS | NAIL SALON LAS VEGAS NV
Our salon takes pride in providing our valued customers all good services and top-high quality products as well as materials.
Address:6825 W Russell Rd, Ste 140,
Las Vegas, NV 89118
Email:vythy@yahoo.com
Phone:775-292-1100