👑 We can't change the world but we can change your nails. Walk in today!
💅 Your nail color should flatter your skin tone and really make your hands pop. If you are an olive-skinned beauty, then use tropical colors like orange, hot pink, and coral for your manicure – they will look amazing. To make the Hot Pink colored manicure more fun, you should combine this trending color with a never-get-old design a.k.a Marble. Take a closer look at the attached photo of marble hot pink nail art with gold flakes as an example.
Welcome to T & N Nails in San Diego, CA 92154 | Nail salon 92154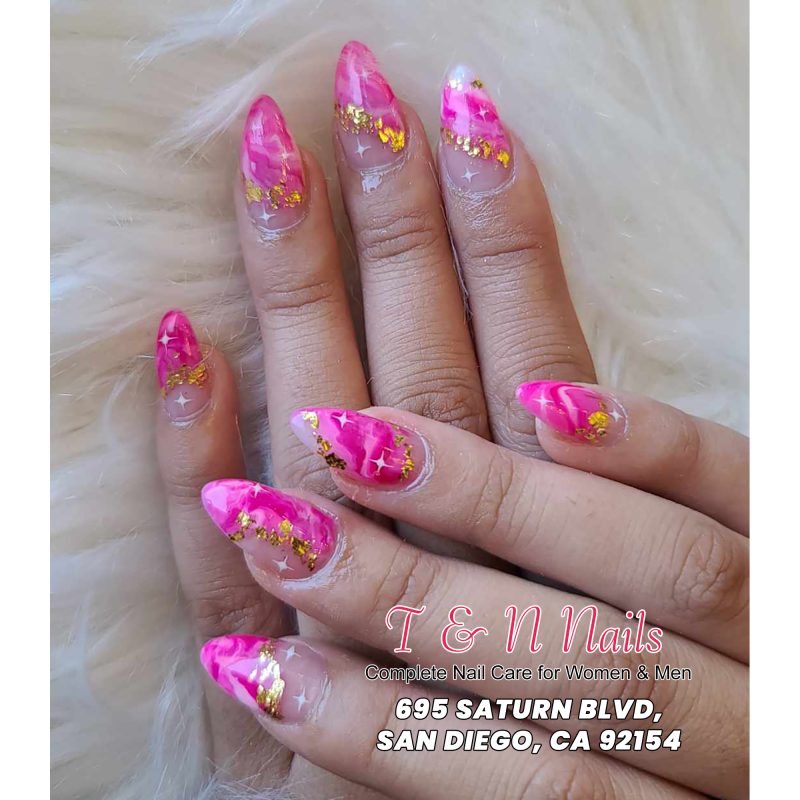 Style Your Nails with Care
So, what's on offer?
Executive Base:
It helps to strengthen soft nails. The multi-functional conditioning base coat compresses nail keratin.
Lavender Base:
It is enriched with lavender essential oil. It moisturises dry and flaky nails. The base is ideal for sore nails and also those, which are infected with fungus.
Nail and Cuticle Conditioner:
It has blue jojoba beads and conditions nails and cuticles. Pressure massage with it will cause the beads to burst. This will release their moisture into the nail plate.
Vitamin Dose:
It is a form of vitamin that is delivered to nail-bed cells. It rejuvenates, moisturises, strengthens and nourishes nails. It contains vitamin B1, B2, B12, C and P.
Cuticle Remover:
It softens and lifts the skin on the nail and around the cuticle area.
Cuticle Oil:
The cuticle treatment, formulated with almond oil, jojoba oil, avocado oil and vitamin E, rehydrates the cuticle and nail plate.
T & N Nails – Nail salon in San Diego, CA 92154
695 Saturn Blvd,
San Diego, CA 92154
619-424-3940
annienguyen27@yahoo.com